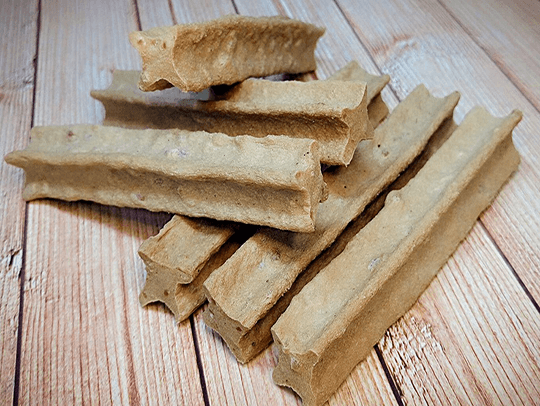 DT-17
The new range of dog treats. ( dog snacks )These are made in Taiwan with 30% meats and with gluten-free formula.The best snack to reward your best friend.Ingredients for Dog treats.
We are committed to using only the highest quality ingredients in our dog treats. Our cowhide chews are sourced from cows that are raised in a healthy and natural environment, and are free from harmful additives and preservatives. We also use real meat and natural flavorings to create a delicious and nutritious treat that your dog will love.
Our dog treats are not only tasty, but they also provide a range of health benefits for your dog. For example, our dental chews can help promote good oral hygiene and reduce tartar buildup, while our joint support chews are formulated to support joint health and mobility.
We also offer a wide range of treat sizes to suit every dog's needs. From small bites to larger chews, we have a treat that will keep your dog happy and satisfied. And because our treats are made with natural ingredients, you can feel good about giving them to your dog on a regular basis.
In addition to our standard range of treats, we offer specialty treats for dogs with specific needs. Our calming chews are designed to help reduce anxiety and stress, while our senior chews are formulated to support the specific needs of older dogs.
At Doge Chews, we are dedicated to providing our customers with the best possible service and satisfaction. That's why we offer a 100% satisfaction guarantee on all of our products. If for any reason you are not completely satisfied with our treats, we will provide a full refund or exchange.
Product Description
Corn starch , Bean flour , Chicken Meat ,Beef Meat ,Pork Meat , Sorbitol, Glycerin, Artificial Flavor ,Vitamin B12 Supplement, Inulin, Lecithin and Yucca .