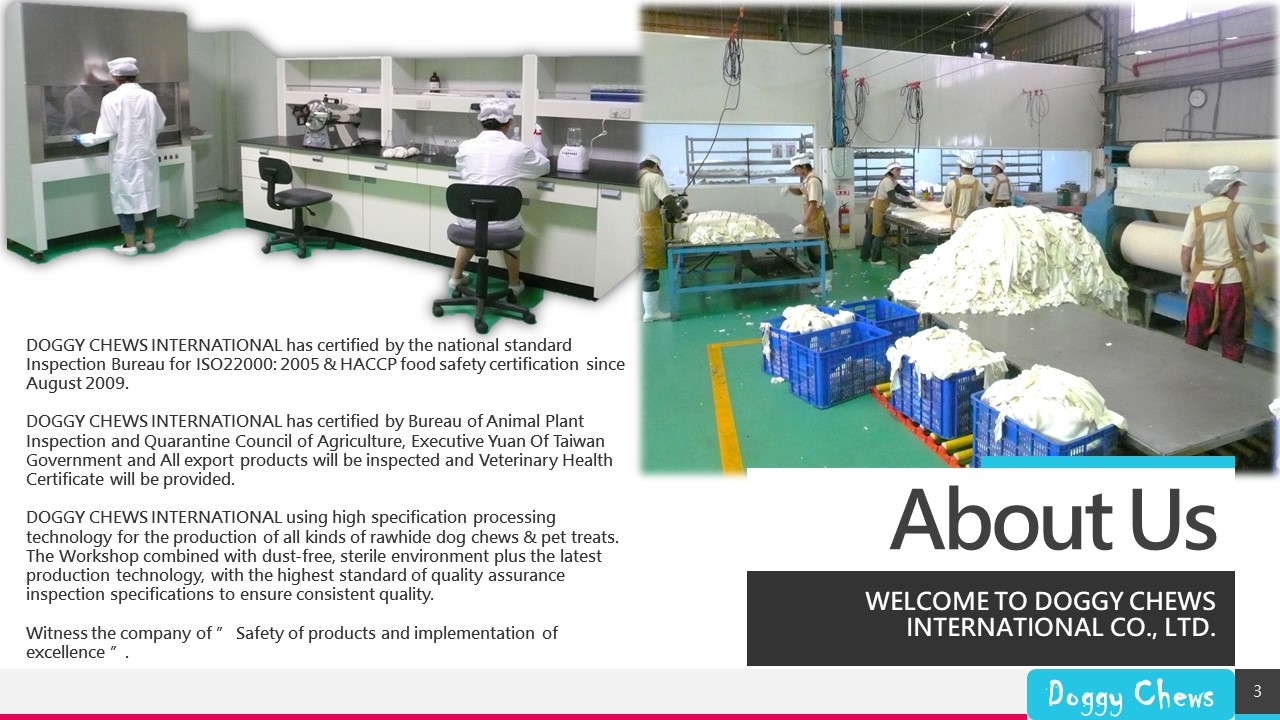 Introduction
As we all awarded and considered American Beef hides is the Prime #1 choice. We could not find any other companies which solely manufactured chews and ship back into US market.

We feel that American Beef hide chews are what demanding pet owners want and we provide the highest quality: thicker and longer lasting chews.

Please keep in mind while you visit our site that we provide a wide variety of American Beef hide dog chews and we are the only company that Imported American Beef hide and manufacturers American Beef hide products 100% in Taiwan and also in whole Asia.
About Us
DOGGY CHEWS INTERNATIONAL has certified by the national standard Inspection Bureau for ISO22000: 2005 & HACCP food safety certification and Australian JAS-ANE ISO22000: 2005 & HACCP food safety certification since August 2009.

DOGGY CHEWS INTERNATIONAL has certified by Bureau of Animal Plant Inspection and Quarantine Council of Agriculture, Executive Yuan Of Taiwan Government and All export products will be inspected twice before the shipping date and Veterinary Health Certificate will be provided.

DOGGY CHEWS INTERNATIONAL using high specification processing technology for the production of all kinds of rawhide dog chews & pet treats. The Workshop combined with dust-free, sterile environment plus the latest production technology, with the highest standard of quality assurance inspection specifications to ensure consistent quality.

Witness the company of " Safety of products and implementation of excellence ".
Goal
We offer most competitive prices with complete service to our customer and providing the World and US market with outstanding products for the best value.