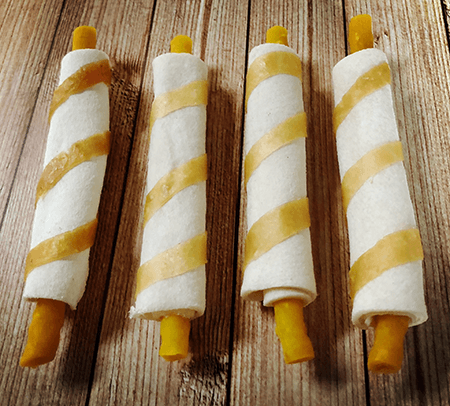 Our Chicken-Infused Rawhide Chews are a great choice for pet owners who want to provide their dogs with a treat that is both delicious and nutritious. Rawhide is a natural material that is derived from cowhide, and is a long-lasting material that can provide your dog with hours of entertainment while also promoting healthy teeth and gums.

We carefully infuse each chew with the mouthwatering flavor of chicken, creating a taste that your dog is sure to love. Chicken is a great source of protein and can provide your dog with essential nutrients that they need to stay healthy and active.

Our Chicken-Infused Rawhide Chews are also free from any harmful additives or preservatives. We take pride in using only the highest quality cowhide in our chews, so you can feel confident giving them to your furry friend knowing that they are getting a safe and nutritious snack.

In addition to promoting dental health and providing your dog with a tasty treat, our Chicken-Infused Rawhide Chews can also help relieve stress and anxiety. Chewing is a natural behavior for dogs and can help them feel calm and relaxed. By giving your dog one of our chews, you can provide them with a healthy outlet for their chewing instincts.