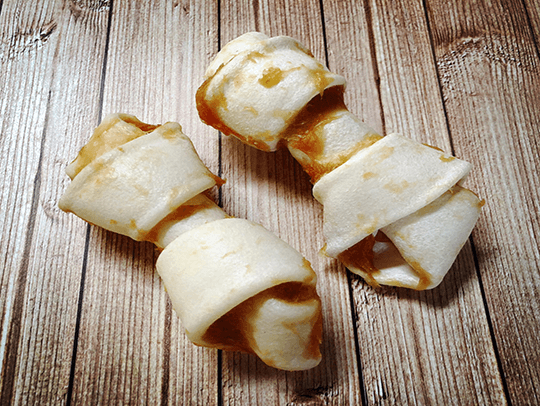 Our chews are made with high-quality rawhide that has been carefully selected for its texture and durability. We work with reputable suppliers to ensure that the rawhide we use is of the highest quality and free from any harmful chemicals or additives.

Our chews are designed to be long-lasting, providing your pet with hours of entertainment and helping to promote healthy teeth and gums. Chewing on rawhide can help remove plaque and tartar buildup from your pet's teeth, reducing the risk of dental problems down the line.

We offer a range of chews in different sizes, shapes, and textures to suit the needs of different dogs. Whether you have a small puppy or a large breed, we have a chew that will work for them. We also offer softer chews for puppies and senior dogs, as well as tougher chews for heavy chewers.

Our company is committed to sustainability. We use eco-friendly packaging materials and work to minimize our environmental impact wherever possible. We believe that taking care of our planet is just as important as taking care of our furry friends.

Our chews are made with high-quality rawhide, which is a natural and long-lasting material that can provide hours of entertainment for your furry friend. Rawhide also promotes dental health by helping to clean your pet's teeth and freshen their breath.