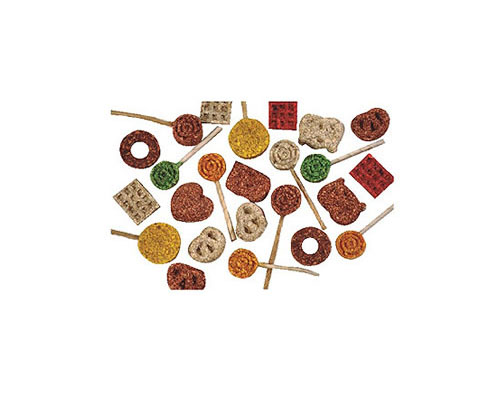 Premium Rawhide Munchies Chews & Flavors 1
Novelty Munchies Assonrtment Waffle, Pretzel, Donut, Lollipops
Our Rawhide Chips Chews are a great option for smaller dogs or for dogs who prefer smaller treats. They come in a variety of shapes and sizes, including rounds, strips, and twists. We also offer our Rawhide Chips Chews in a variety of flavors, including chicken, beef, and peanut butter, all of which are derived from real ingredients.
Our Rawhide Chips Chews provide a natural outlet for your dog's chewing instincts and can help promote good oral hygiene by reducing tartar buildup and improving breath. They are also a great way to reward good behavior and keep your dog entertained.
In addition to our Rawhide Chips Chews, we offer a variety of other rawhide chews in different sizes and shapes to suit every dog's needs. Our product line includes rawhide rolls, retriever rolls, braids, and more.
At Doge Chews, we are committed to providing our customers with the highest level of service and satisfaction. That's why we offer a 100% satisfaction guarantee on all of our products. If for any reason you are not completely satisfied with our Rawhide Chips Chews or any of our rawhide chews, we will provide a full refund or exchange.
Product Description
Novelty Munchies Assonrtment Waffle, Pretzel, Donut, Lollipops