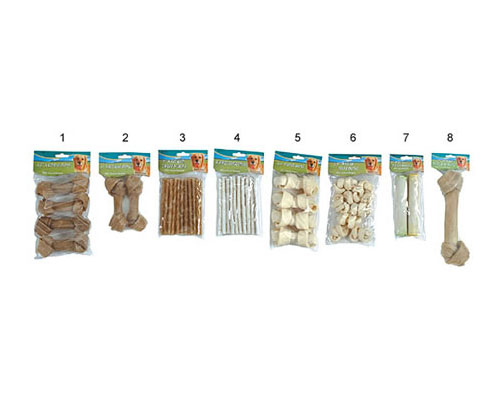 Value Packs 2
1.4 1/2" Natiral Rawhide Bone ,4pcs
2.5" Natiral Rawhide Bone ,2pcs
3.Natiral Rawhide Twist Stick 6-8mmX5" ,20pcs
4.White Rawhide Twist Stick 6-8mmX5" ,20pcs
5.4" - 5" White Rawhide Bobe, 4pcs
6.2 1/2" White Rawhide Mini Bone ,8pcs
7.6" White Chew Rools , 2pcs(Dental Minit & Cheese)
8.11" Natiral Rawhide Bone
Certainly! At Doge Chews, we are committed to providing high-quality rawhide chews made from 100% natural cowhide. We believe that dogs deserve the very best, which is why we never use any artificial additives or preservatives in our products. Our rawhide chews are free from fillers or by-products, ensuring that they are safe and healthy treats for your furry friend.
In addition to our Chain Stores Series Premium Rawhide Chews, we also offer a variety of other products that dogs love. Our white rawhide chews, retriever rolls, and braid rings are all popular choices among dog owners. We also offer value packs, providing our customers with more treats for their money.
Our rawhide chews provide a natural outlet for your dog's chewing instincts, helping to promote good oral hygiene by reducing tartar buildup and improving breath. They are also a great way to reward good behavior and keep your dog entertained.
Product Description
1.4 1/2" Natiral Rawhide Bone ,4pcs
2.5" Natiral Rawhide Bone ,2pcs
3.Natiral Rawhide Twist Stick 6-8mmX5" ,20pcs
4.White Rawhide Twist Stick 6-8mmX5" ,20pcs
5.4" - 5" White Rawhide Bobe, 4pcs
6.2 1/2" White Rawhide Mini Bone ,8pcs
7.6" White Chew Rools , 2pcs(Dental Minit & Cheese)
8.11" Natiral Rawhide Bone