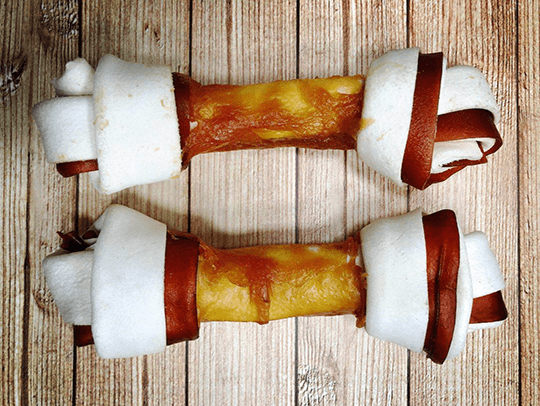 Our beef-flavored Doge Chews are made with premium rawhide, a natural and long-lasting material that can help promote dental health by reducing plaque and tartar buildup. Chewing on our chews can also help relieve stress and boredom, which can prevent destructive chewing behaviors.
We are committed to using only the highest quality ingredients in our chews. That's why we use only the finest rawhide and avoid any harmful additives or preservatives. You can feel confident giving our beef-flavored chews to your furry friend knowing that they are getting a safe and nutritious treat.

Our beef-flavored chews are perfect for dogs who love the taste of meat. The robust flavor of beef is infused into every chew, creating a taste that your dog won't be able to resist. Whether you're using our chews as a reward for good behavior or simply spoiling your pet, our beef-flavored chews are sure to be a hit.

We offer a range of sizes to suit the needs of different dogs. From small chews for puppies to larger options for bigger breeds, we have a chew that will work for your furry friend. And because our chews are made with high-quality rawhide, they are also long-lasting, so your pet can enjoy them for hours at a time.